MARK II Combat Robot
CRAE TECH and Center of Research in Applied Electronics (University of Malaya), worked on development of a robot for combat robot competition. In this collaboration, we were engaged in the design and fabrication of the robot. This robot is named "MARK II" because it is the second member in the family of combat robots. MARK II is 30Kg and designed to be unstoppable; it can climb many different types of obstacles and it can be driven on both sides, it is also equipped with pneumatic cylinders and compressor to move or penetrate the objects presented on its way. MARK II's drivetrain has been heavily modified to transfer huge amount of power to the point that it can tow a 2 tons car. MARK II is powered by carefully selected and continuously monitored batteries for 8 hours of reliable performance (without additional loads) with each charge.
MARK II's Powertrain
MARK II's powertrain has been tested under extreme conditions to assure its durability and reliability. MARK II's powertrain has been modified extensively so that it can tow a 2 tons car at ease. Our work on MARK II's powertrain can be applied in many different applications, where size and weight are important factors in the design of the powertrain.
MARK II's Pneumatic System
MARK II's pneumatic system consists of compact compressor, 2 cylinders and valves, the cylinders may be attached to a shield with different configurations, and the shield is secured by guided sliders. The compact compressor provides unlimited access to compressed air (as long as the battery last).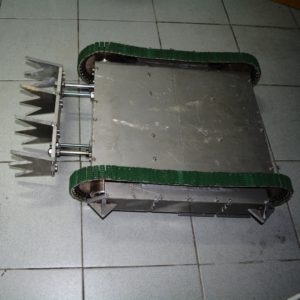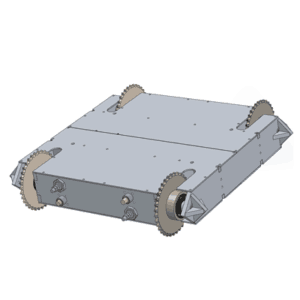 MARK II's Design
MARK II has been designed in CAD software for both mechanical and electrical parts. The mechanical part contains all the mechanical components from its body to the gears in the Powertrain and the electrical part contains the PCB and all the components used on the PCB. The detailed design allows us to save huge amount of time when fabrication starts.