Customized Remote Controller
CRAE TECH developed a multipurpose remote controller for controlling different robots ranging from quadcopters and planes to robotic arms. The first project featuring our remote controller was MARK II combat robot. The remote controller has a lot of features which are not common in products available in the market. The most important feature is the two way communication, therefore we can receive data from robot in real time and the huge screen on the remote allow us to make a neat representation of the data. We have designed the remote controllers in such a way that the user has access to buttons and switches while holding the sticks in the correct position. We are planning to bring our remote controller to the market, so that other engineers and hobbyist are benefited too.
Closer Look at Remote Controller
The remote controller is capable of controlling many different devices and we have tested the remote in many different projects.
The Large Screen
The large screen allows us to have different information presented on the screen. The remote is configured to show each motor's speed, robot status, pressure level, compressor status, valve status, 6 temperature measurements, robot's name, battery status and the robot orientation.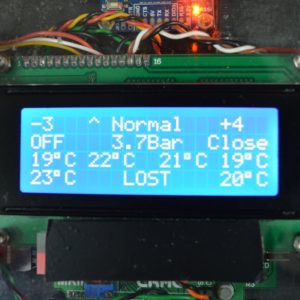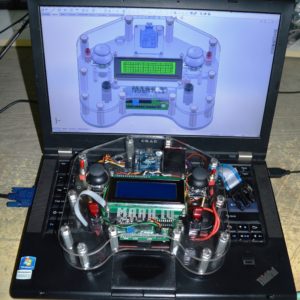 CAD and PCB Design
The remote controller was initially designed in CAD software and PCB design software and we tested our design with a humble paper model and right after that we fabricated the first remote controller. The remote controller was designed so well that we did not change anything for the next remote controllers.